2d-002-007dccs N Gauge Dapol Class 50 Resolution 50018 Late Nse DCC Sound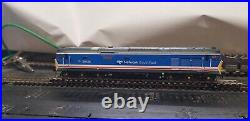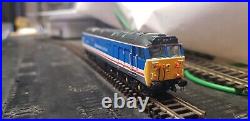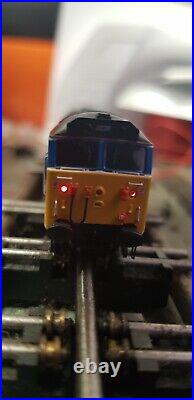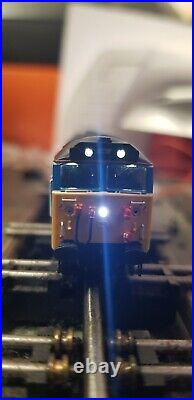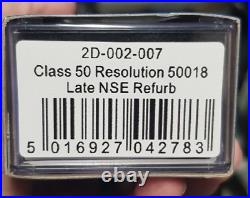 BRAND NEW DCC SOUND FITTED 2D-002-007 CLASS 50 RESOLUTION 50018 LATE NSE CAN ALSO BE OFFERED AS AN ANALOGUE VERSION UPON REQUEST. Brand new loco DCC sound fitted. Brief History of the Loco. The British Rail Class 50 is a class of diesel locomotives designed to haul express passenger trains at 100 mph (160 km/h). Built by English Electric at the Vulcan Foundry in Newton-le-Willows between 1967 and 1968, the Class 50s were initially on a 10-year lease from English Electric Leasing, and were employed hauling express passenger trains on the, then non-electrified, section of the West Coast Main Line between Crewe and Scotland.
The class gained the nickname "Hoovers" because of the noise made by the clean air plant at the No. 2 end, prior to refurbishment, which was likened to that of a vacuum cleaner, a name believed given to them by the staff at Paddington Station.
Once the electrification from Crewe to Glasgow was completed the locomotives were moved to the Great Western Main Line (GWML) out of Paddington to allow the retirement of most of the remaining diesel-hydraulic locomotives then in use. As trains on the GWML steadily moved to High Speed Train operation from 1976, the Class 50s moved to hauling trains between London Waterloo and Exeter St Davids, and also trains from London Paddington to Hereford and Worcester via Oxford until the majority of those trains too were taken over by IC125 operation.
The class was steadily retired from service in the late 1980s and early 1990s as their services moved to operation by second-generation Class 159 DMUs. SUMMERY OF FUNCTIONS IF CONVERTED TO SOUND. Directional Head Light and Rear Lights. Looped High Horn blast finished with a short low horn pip. Looped low horn blast finished with a short high horn pip.
Looped Blast of the Low horn. Locomotive will rev up to the desired speed, and then automatically back down into a "Coast", will start to rev again after a short pause to give the impression of maintaining a constant speed. Directional, and will automatic switch off when the locomotive begins to pull away, will automatically switch back on when locomotive comes to a stop. Cab light which will remain on when running.