Bachmann 31-267ASF Class 419 MLV S68008 BR Blue/Grey (DCC-Sound)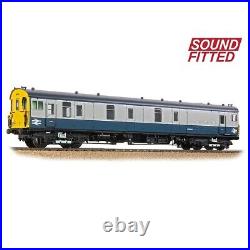 Announced as part of the Summer 2022 British Railway Announcements, we are delighted to present our first ever OO scale SOUND FITTED first generation Electric Multiple Unit (EMU) with this Bachmann Branchline Class 419 MLV, which is finished in BR Blue / Grey livery as No. The Motor Luggage Van (MLV) will be a welcome addition to the Branchline range, joining models like the Class 410 4BEP and the Class 411 4CEP which make the perfect running partners and allow prototypical trains to be created. The Branchline model combines a finely detailed bodyshell with a chassis that sports a plethora of separate components - representing the various equipment fitted to the underframe of the vehicles, along with excellent reproductions of the bogies. Although comprising just a single vehicle, the powerful five pole motor and flywheel will provide plenty of traction if you ever need your model to haul additional stock.
Supplied complete with SOUND FITTED, you can enjoy the added dimension of realistic sound effects when operated on analogue control or DCC straight out of the box MODEL FEATURES: Bachmann Branchline OO Scale Era 7 Pristine BR Blue / Grey livery Running No. S68008 Accessory Pack NEM Coupling Pockets Powerful 5 Pole Motor with Flywheel Directional Lighting SOUND FITTED - Fitted with a ESU Loksound V5DDC Sound Decoder - See below for the function list Length 270mm.