Bachmann 31-591ASF Class 70 No. 70811 Colas Rail Freight Livery Sound Fitted New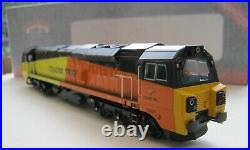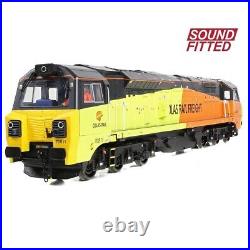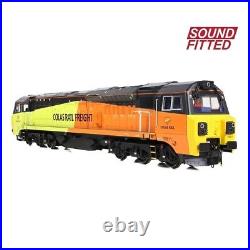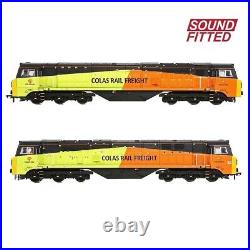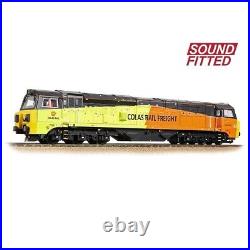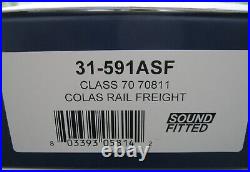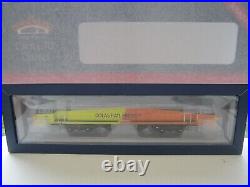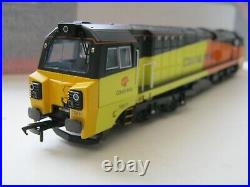 Bachmann 31-591ASF Class 70 No. Carrying the running number 70811 and complete with. This locomotive sports the air intake modifications undertaken after the first Class 70s were delivered to Freightliner, but which were incorporated into the locomotives ordered by Colas as they were built - the distinguishing feature of these modifications being the air boxes mounted prominently on each side of the body, below the cooler fans.
This Bachmann Branchline model captures the unique looks of the Class 70 to a tee and is adorned with numerous separately fitted detail parts, including dozens of metal handrails fitted around the cabs and to the bodyside panels. The vibrant livery really brings the model to life, the striking tri-colour scheme is littered with logos and safety warnings, and we've spared no expense in capturing this stunning livery and the myriad associated printed details to bring this current day locomotive to your model railway. You can enjoy the sounds as well as the sight of this Class 70 running on your layout. Accessory Pack included fully decorated Bufferbeam Pipework.
Powerful 5 Pole Motor with Twin Flywheels. Detailed and Decorated Cab Interior with pre-fitted Driver in one cab. Lighting can be controlled by chassis-mounted switches or via DCC.
Fitted with a Zimo MS440C DDC Sound Decoder - See below for the function list. F0 - Directional Lights - On / Off (plus Light Switch Sound). F1 - On - Warm Engine Start / On (with F8 On) - Cold Engine Start. F3 - Horn 1 (Speed and Direction Related). F4 - Horn 2 (Speed and Direction Related). F5 - Light Train Mode. F9 - Flange Squeal (Speed Related). F10 - Despatch Whistle & Driver Acknowledgement Horn. F15 - Cooler Group Fan. F17 - Wagon Snatching & Buffering. F18 - On - Driver's Door Open / Off - Driver's Door Closed. F19 - Fade All Sounds. F25 - Detonators (Speed Related). Please note that normal load running sounds and any other automatic or randomised sounds will also operate when this model is used on analogue control (DC) straight from the box!