Bachmann 35-337SF Class 37 423'Sir Murray Morrison' Rf Metals (DCC-Sound)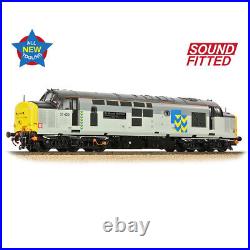 The British Rail 1955 Modernisation Plan paved the way for the large-scale replacement of steam traction with diesel locomotives, and one of the most successful diesel locomotive designs to result from this was the English Electric Type 3. These 1,700hp Types 3 diesel-electric locomotives were built at English Electric's Vulcan Foundry and by Robert Stephenson / Hawthorns between 1960 and 1965, with 309 examples produced in total. When TOPS was implemented the type was designated Class 37. The class proved popular with railwaymen and so in 1985, a major refurbishment programme for the Class 37 locomotives was sanctioned to extend the working lives of 135 locomotives. Features of the refurbishment involved plating over the four-character head codes and sealing off the nose end communication doors.
A new subclass was created for locomotives refurbished with Electric Train Heating (ETH) equipment, allowing their use on passenger trains the whole year-round. The Class continued to be widely used into the Privatisation-era, with examples operating for the likes of EWS, DRS, West Coast Railways and Colas, whilst others have received'retro' heritage repaints. Features - Bachmann Branchline OO Scale - Era 8 - Running No. 37423 - Named'Murray Morrison' - Etched Nameplates included - Fitted with a Zimo MS450P22 DDC Sound Decoder - Central Headcode Panels - Plated and fitted with Sealed Beam Marker Lights - Top Centre Lamp Bracket - High Intensity Headlight - Bufferbeam Valance Removed - Coupling Bash Plate - Oval Buffers - Original Windscreen - English Electric Cantrail Grilles - Welded Boiler Roof - Plated Boiler Port and Safety Valves - Sealed Water Filler Door and Plated Access Steps - Fabricated Bogies - Original Speedo Drive - Mileage Counter - Twin Fuel Tanks with Ex-Water Tank Gauges Plated Over.