Bachmann Class 20 BR Green SYP No. D8133 Headcode Box Sound Fitted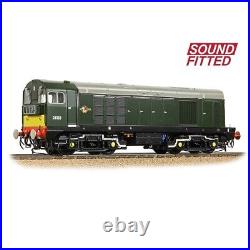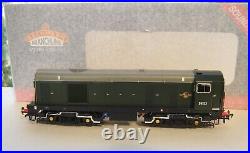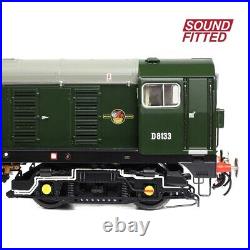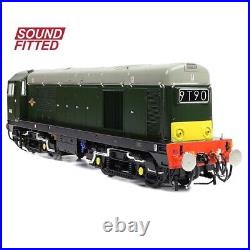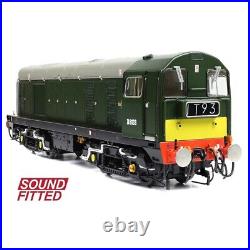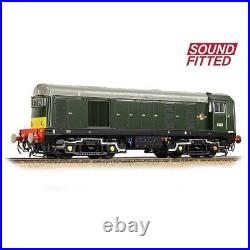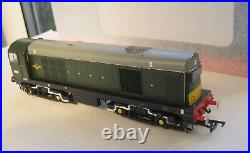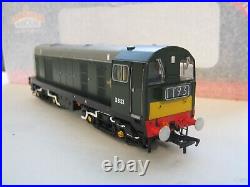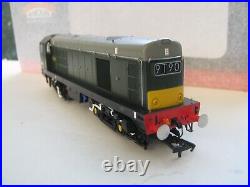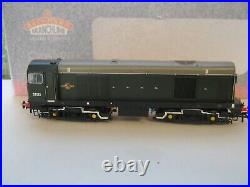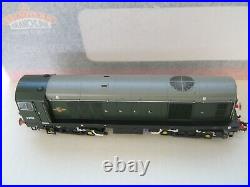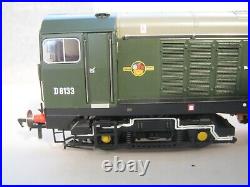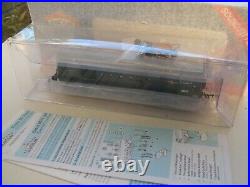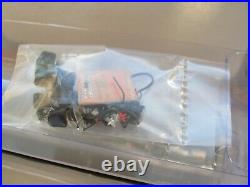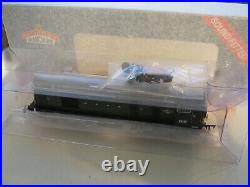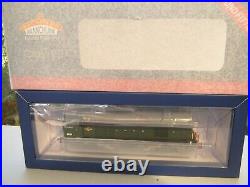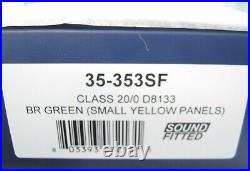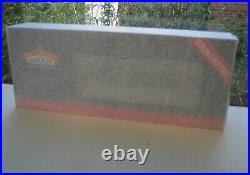 Bachmann 35-353SF Class 20/0 - BR Green Livery Headcode Box Variant No. D8133 With Small Yellow Warning Panels. The all-new Bachmann Branchline Class 20/0 broke cover in 2021, our first New Tooling project to be unveiled in the quarterly British Railway Announcements, and now we have more new models to share with you. With Small Yellow Panels for the first time we have. Which is fitted with headcode boxes and comes complete with.
This latest generation Bo-Bo diesel locomotive from Bachmann Branchline brings the classic BR Class 20/0 right up to date, capturing the subtle lines of these distinctive locomotives. The high level of detail is brought to life by the intricate livery application, whilst the performance and features of this. Model offer the perfect complement to the model's good looks. Pristine BR Green (Small Yellow Panels) livery. Fitted with a Zimo MS450P22 DCC Sound Decoder - See below for the function list. DETAIL VARIATIONS SPECIFIC TO THIS MODEL. Two Piece Bodyside Handrail (RHS).
Four Sandboxes per Bogie (Inner Pairs are supplied in the Accessory Pack). Snowploughs (optional part supplied in the Accessory Pack).
BACHMANN BRANCHLINE CLASS 20 SPECIFICATION. Five pole, twin shaft motor with two flywheels providing drive to both bogies. Separate metal bearings fitted to each axle. Diecast metal chassis block and bogie towers. Diecast metal gearboxes, with gearing arranged for prototypical running speeds and haulage capabilities.
5mm (OO gauge) wheels to NEM310 & NEM311 standards with authentic profile and detailing. Detachable coupling pockets to NEM362 standards fitted to each bogie. Designed to operate on curves of second radius (438mm) or greater. Bogies constructed from multiple components featuring full relief detail.
Separately applied metal detail parts, including handrails, grab handles, sand pipes and etched fan grilles. Each model supplied with a full set of decorated, model-specific bufferbeam pipework and accessory parts. Directional lighting, including headlights and high intensity headlights where applicable, switchable on/off at either end on DCC or Analogue control.
Authentic light colours and temperatures selected for each model based on era and application. Speaker installed in all models for optimum sound reproduction. Zimo MS450P22 DCC Sound Decoder fitted to. Sound files produced specifically for the Bachmann Branchline Class 20 using recordings from real locomotives.
Models operate on DCC and Analogue control as supplied. On Analogue, an authentic engine start up sequence and running sounds are produced when power is applied. Authentic liveries applied to all models. Multiple paint applications employed on each model using BR and corporate specification colours. Logos, numerals and text added as appropriate using multi-stage tampo printing using authentic typefaces, logos and colours.
In addition, where applicable Etched Nameplates and Plaques are also provided. F0 - Directional Lights - On / Off (plus Light Switch Sound).
F1 - On - Warm Engine Start / On (with F8 On) - Cold Engine Start. F3 - Single Horn (Speed Related). F4 - Two Tone Horn (Speed Related). F5 - On - Light Train Mode / Off - Heavy Train Mode. F6 - Engine Idle / Coasting.
F9 - Flange Squeal (Speed Related). F10 - Guard's Whistle.
F13 - Cab End High Intensity Light (If Fitted). F14 - On - Night Mode Directional Lights / Off - Day Mode Directional lights (If Fitted). F17 - Wagon Snatching & Buffering. F18 - On - Driver's Door Open / Off - Driver's Door Closed.
F19 - Fade All Sounds. F20 - Nose End Directional Lights Off. F21 - Cab End Directional Lights Off. F22 - Cab Light On (Only when Stationary).